My Titanic alter-ego, Anna Danbom, was from Sweden. Her "last residence," according to the Encyclopedia Titanica, was
G

öteborg

Västergötland

Sweden. There were 18 others on the ship from
Västergötland, in yellow on this map. One survived.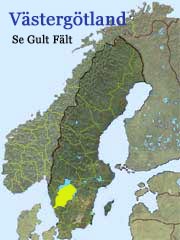 Anna and her husband, Ernst, were travelling from Sweden to Stanton, Iowa, and that's where his body is buried. Why were they on the Titanic? Here's what Encyclopedia Titanica says:
Ernst was a farmer and emigrant recruiter from Stanton, Iowa. He was married to Anna on 30 November 1910 and they made a one year honeymoon trip to Sweden, where their son Gilbert was born. Ernst got commission from White Star for emigrants he recruited and he had quite a lot of cash when he left Sweden. It was meant that the family could eventually settle in Ernst's fruit farm in Turlock, California.
I'd never heard of emigrant recruiters. I wonder what those emigrants planned to do here in the U.S. Maybe Ernst had some ideas for them.
I guess Ernst had recruited family; the Danboms were travelling with Anna's sister, Alfrieda Andersson, her husband and 5 children (they were from
Östergötland
). None of the Anderssons survived.
Ernst's body was found, and brought to Iowa and buried in Mamrelund Cemetery just outside the Stanton.
Here's Stanton, Iowa. It's near Red Oak. Which is near Omaha, Nebraska, so Stanton is at the western edge of the state.
View Larger Map
I imagine that the Danboms were doing pretty well in Stanton--there was a Swedish community there, and Ernst was part of it. Encyclopedia Titanica says that "the relatives were not considered in need of money from the relief fund."
The
town's website
still emphasizes its Swedish heritage: it's the home of "Mrs. Olson" of coffee commercial fame, it has a park called Viking Lake State Park, and a watertower that looks like a Swedish coffeepot.
It would be interesting to go see Ernst's grave. I wonder if their town is doing anything Titanicish this year.
This article from BBC News
shares more information about Swedish passengers on the Titanic. The stories are heartbreaking.
Did I mention that I have Swedish roots? My great-grandparents on my mother's mother's side were from Sweden.